Spring Break is almost here, and if you're lucky, you get to go on vacation.
This year my daughter's 16th birthday falls during her Spring Break.  Since she still wants to hang out with her Mom, I figured I'd grab the opportunity to take her to one of my favorite cities: San Francisco.
We live about 300 miles from SF, so while flying into the city was my preference, driving was definitely the more economical choice. Because we have limited time (can't take the whole week to play, darn it…) and money, I had to make a plan to maximize our fun on a budget.
Budget Booking
I have a few basic need and some assorted wants when it comes to picking out a hotel when we travel.
First, it has to be clean and safe.  I don't care if it has the latest flat panel TV, but I do care if I find unidentifiable stains on the sheets and a toilet that hasn't been wiped down. Second, I really want free wifi and parking, and a free breakfast if I can get it, all included in the price of a night's lodging.  Third, no hidden fees that show up only at checkout and are barely mentioned otherwise.  It doesn't happen often, but it does happen.
For our San Francisco trip I started with my favorite travel deal site: Hotwire.  I find it's the easiest place to get a general idea of current trends in pricing, and it allows me to see general areas on maps.  Those things help me when I search for deals on other sites, especially since I can see deals on hotels, airfare, and car rentals all in one spot.
The only negative to Hotwire is that the deals come and go quickly, and once you purchase them, no refunds.  They do pop up with something now that indicates if you buy this 'protection' you can get your purchase refunded, but in the small print the request for refund must occur within 7 days of purchasing the protection.  That won't help you if you, like me, purchase your trip a month in advance.
I also use TripAdvisor to check out reviews and see traveler's photos when I've narrowed down the area I hope to stay.  In the case of this trip, I first took a look at the hotels in SF with free parking, knowing there would only be a few.  Then I checked out the offerings.  After checking it out and not feeling confident in the choices, I broadened my search to areas that had ferry boat terminals around the bay, with service to SF.   In doing so, I cast a wider net and found the perfect place for us in Tiburon, a quiet community near Sausalito.
The boutique hotel we found: Water's Edge in Tiburon, has only 23 rooms, free parking, free wifi, a free breakfast, and is waterfront with a ferry boat terminal right next door and fine dining within walking distance. Rooms are contemporary and updated, with an in room working fireplace.  A nightly wine reception on the back deck overlooking the marina and SF skyline were just icing on the cake. Perfect!
Rooms are generally $215 to $325 per night, with the current rate around $190.  Through Hotwire, we booked a room for $133 a night!  Perfect location and savings, especially considering equivalent lodging in San Francisco was not to be found.
I also saved an additional $25 off my Hotwire booking by downloading their app to my phone, and making the reservation via mobile.  They have a current promotion (good thorugh 3/31/14) that automatically takes $25 off a purchase of $100 or more.
TIP: Consider outlying areas versus being 'in' the city you want to visit.  Your lodging costs will be lower and you'll add a new twist to your adventure.
Food and Entertainment Savings
I'm a huge fun of using sites like Groupon, LivingSocial and Travelzoo, to find deals on things to do.  For our SF trip I found a bunch of great deals by simply typing in 'San Francisco' into the Search box on each site.
On Travelzoo I found half off deals on tours by ferry and bus, as well as a deal on a CityPass that allows you several days admission to various sights and a Muni (bus) pass.  I purchased tickets for HopOn HopOff bus tour so that we could explore the city a bit, without the expense of taking a cab.  I also purchased tickets for the aquarium and a novelty ride at Fisherman's Wharf.  Travelzoo had about 30 different deals for SF between things to do, lodging and dining.
To snag the deals on Travelzoo you simply sign up and purchase the vouchers which you then print and take with you to present at the venue.  Some deals indicate you can use the Travelzoo app and simply show the deal to the vendor when you arrive, but most prefer printed vouchers.  All deals have 'fine print' so read them before purchasing.
Groupon and LivingSocial work much the same way as Travelzoo.  You pick our your deals, reading the fine print before purchasing, and once you have made your purchase you print your vouchers to use them.  I found some great dining coupons for Tiburon this way, saving 50% off a restaurant that is a tenth of a mile from our hotel and well rated on TripAdvisor.
We also plan on taking in some relaxing free entertainment by checking out the Golden Gate National Recreation Area and getting some great photos!
TIP:  Make a general itinerary for your trip including those things that you want to do each day.  Don't over book your day to assure enjoyment of those things you will be doing.
TIP: If you use social media sites such as Twitter and Facebook, be sure to 'like' deal sites and sites related to your trip to gain valuable deal info.  Liking AAA on Facebook gave me a free 2nd person membership last month.
Blazing Saddles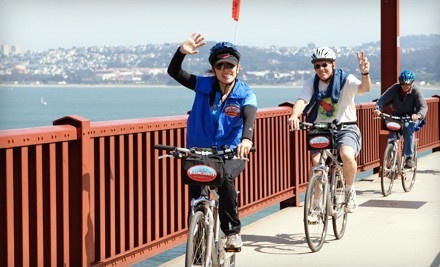 Mountain or Hybrid Bike Rental or Three-Hour Guided Bike Tour for Two at Blazing Saddles (Up to Half Off)
Blue & Gold Fleet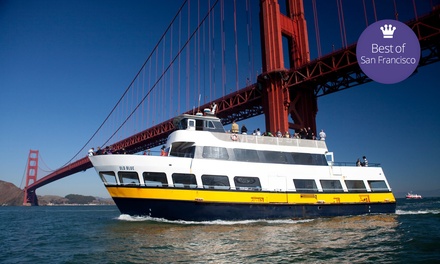 $36 for a 90-Minute Escape from the Rock Cruise Around Alcatraz for Two from Blue & Gold Fleet (Up to $72 Value)